Recommanded
Top 7 Best Twin Characters In Anime To Watch
There's something about watching two characters interact together that can be incredibly entertaining. Whether it's a close sibling duo or two complete strangers, anime offers up some of the best Twin Characters in any form of entertainment.
When it comes to anime, there are always certain characters that just stick out to us. Whether they're quirky and lovable or badass and dangerous, we can't help but fall in love with them. Twin characters are characters who share a similar personality or appearance and often work together in an anime. Twin characters are often entertaining and provide a unique perspective on the story.
So whether you're a twin fan or just looking for something new and exciting to watch, here are the top 7 best Twin Characters in anime.
---
Advertisement
---
1. Ryou and Kyou Fujibayashi ~ Clannad
Ryou and Kyou Fujibayashi are the purple-haired anime twins in Kyoto Animation and Key's cry-a-thon Clannad and its sequel Clannad: After Story. Although they're twins, the pair of them are quite different. Ryou is the timid version, while Kyou is the louder, more aggressive version of the two. Also, since Clannad technically qualifies as a harem anime with multiple routes, they both have a crush on the main character.
---
Advertisement
---
2. Nana Astar and Momo Belia Deviluke ~ To Love Ru
Nana and Momo (along with their big sister Lala) are the pretty pink Princesses of Deviluke, making them two of the cutest anime twins and anime aliens in existence. But don't be fooled by their bright smiles. These mischievous anime twins have come to Earth to escape their studies and have some fun… and fun they shall have!
---
Advertisement
---
3. Hikaru and Kaoru Hitachiin ~ Ouran High School Host Club
Doesn't matter if you're a lady or a dude, everything is better when there are two versions of this pretty guy. This is especially true since these anime twins like to play up a homoerotic, incestuous vibe between themselves in Ouran High School Host Club. You would think parents of these identical anime twins would give them significantly different names, but instead, they got lazy and just stuck 'hi' on the front of Kaoru's name to christen their other twin son.
---
Advertisement
---
4. Kururi and Mairu Orihara ~ Durarara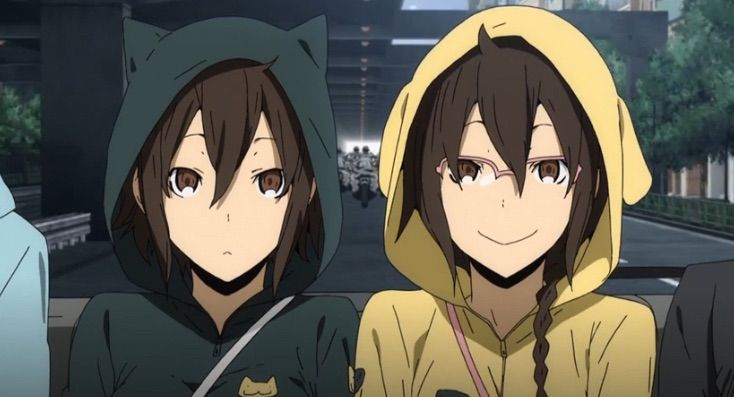 Speaking of anime twins that like to play up their vaguely incestuous homosexual vibes, how about the Orihara sisters from Durarara. Although they didn't really show up until the sequel, Izaya's younger sisters stole the spotlight in each scene they were in with their wild and slightly scary antics. Unless you think pouring thumb tacks into someone's mouth is cute and lovable behavior.
---
Advertisement
---
5. Ram and Rem ~ Re:Zero
Ram is also an Oni who works as a maid along with Rem. People in her village refer to her as the Oni God's reincarnation because of her exceptional talent and strength. Ram likes to do things at her own pace. Rem is an Oni who became a maid along with her sister. She tends to speak politely to keep a fake image of a good maid. Rem has an inferiority complex due to a past incident with her sister.
---
Advertisement
---
6. Rin and Yukio Okumura ~ Blue Exorcist
When you imagine the children of Satan, you probably picture creatures straight out of some old horror movie. But animation paints a quite different picture than Hollywood. The Okumura brothers are two half-human, half-demon brothers who were raised by a powerful exorcist. After his passing, they decide to fight the fight that he had begun. These handsome anime twins show us just how hot flames can be!
---
Advertisement
---
7. Riko and Ako Suminoe ~ Kiss x Sis
Riko is an athletic student who always helps out various sports clubs that need a temporary player for training. But when it comes to academics, she has a tough time and even thinks passing an exam depends on luck. Ako is a bright and intelligent girl who excels in her studies and cooking. Ako is the general manager of the student council for her school. She likes to maintain a prim and proper demeanor to create an example for other students.
Read Also >>
Top 20 Anime Girls with Pink Hair To Fall In Love
Top 10 Beautiful Anime Girls With Black Hair
26 Best Insane And Crazy Anime Girl Ever
21 Most beautiful white hair anime girls
Top 10 Cutest And Bravest anime girl with red hair
10 Most Beautiful Anime Girl With Purple Hair