Dragons In Anime, Whether they're loyal friends or dangerous foes, dragons are one of the best parts of any anime. There are plenty of powerful dragons in fiction and these 10 represent some of the best Dragons In Anime.
If we turn to the world of anime then we can find plenty of dragons, so let's go through the most iconic ones across all anime series. Here are the top 10 best dragons in anime ever.
---
Advertisement
---
10 Best Dragons In Anime Of All Time
1. Pina – Sword Art Online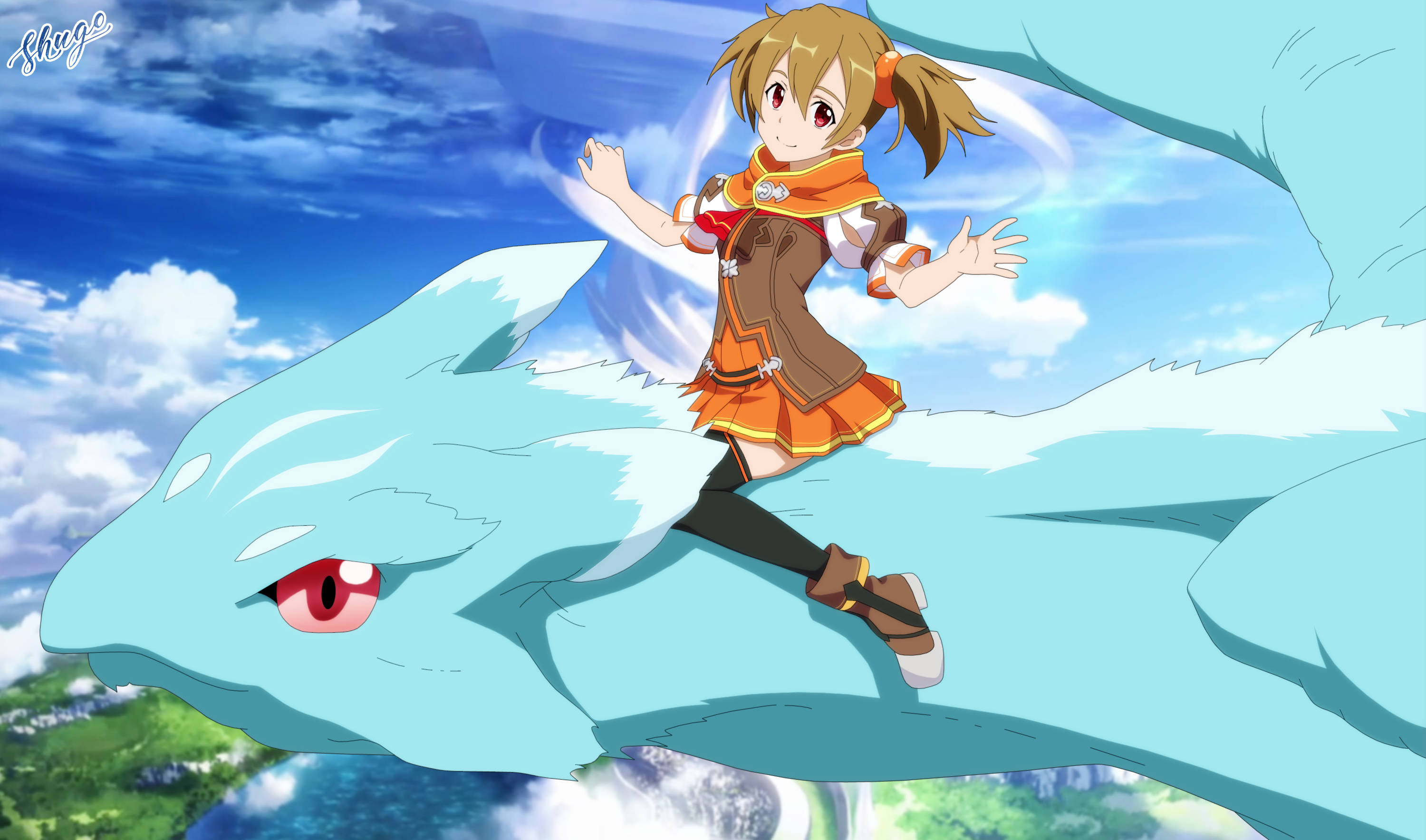 Pina is a young feathered dragon that was also the very first monster ever tamed in Aincrad. It's Silica's beloved pet, and it often followed her around even in other games. At one point, Pina even sacrificed itself just to save Silica from an attack that would have killed her also making it one of the kindest dragons in my book.
Plus it can heal other characters too. It's a kind and gentle priest-type character that everyone would love to have at their party.
---
Advertisement
---
2. Tomoe – Tsukimichi Moonlit Fantasy
Tomoe is a dragon who spends most of her time in the series in her demihuman form. But unlike Tohru who mirrors the look of the dragons in western mythology, Tomoe takes on the form of an oriental dragon whenever she transforms.
Moreover, she's the opposite of everything you might expect from a creature of her stature. By that I mean she's more easygoing and lax, rather than excessively proud and intense.
---
Advertisement
---
3. Peter Hausen – Demon King Daimao
Peter Hausen is a dragon from the fantasy anime series 'Ichiban Ushiro no Dai Mao'. The show has Akuto Sai as its protagonist who wants to change the world for the better and meets Junko Hattori who has similar thoughts and goals.
They join a magic academy as a beginning step toward fulfilling their dream. But turns out Akuto is more unique and different than everyone else. He is supposed to become the next demon king. This fact spreads quickly and people start alienating themselves from him. Peterhausen is a powerful dragon with a monstrous and demonic appearance. It has curved horns.
---
Advertisement
---
4. Haku – Spirited Away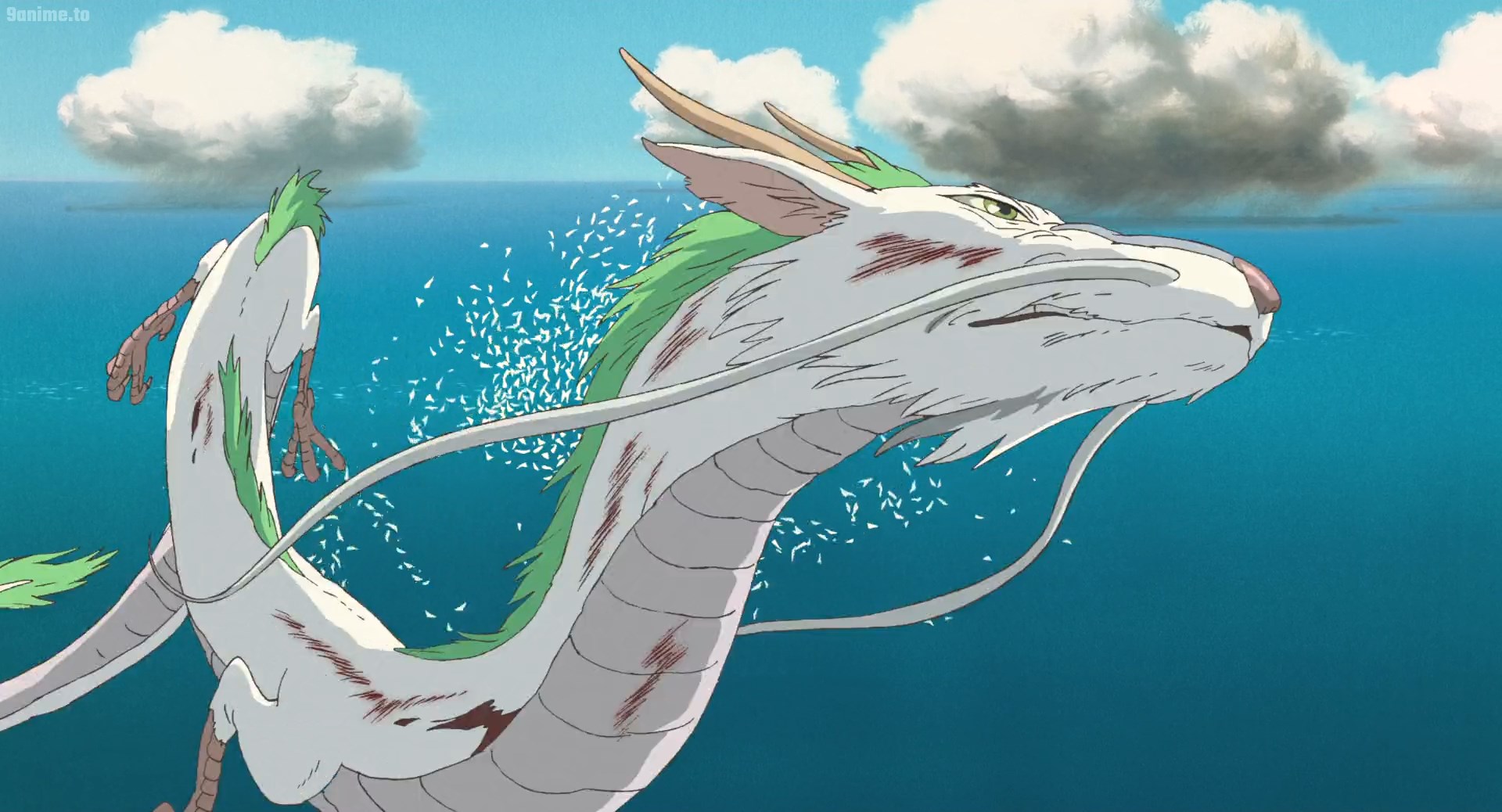 Haku is the co-protagonist of Spirited Away, a movie that's widely and rightfully considered one of the very best of its kind. He looks no older than an early teenage boy in his human form, but he often conducts himself in a calm and mature manner.
Moreover, he's also understanding, kind, and protective, especially to Chihiro whom he considers a true friend. Haku isn't like most dragons in anime, in the sense that he exhibits a bit more grace and tact, although he still does have his less dignified moments.
---
Advertisement
---
5. Acnologia – Fairy Tail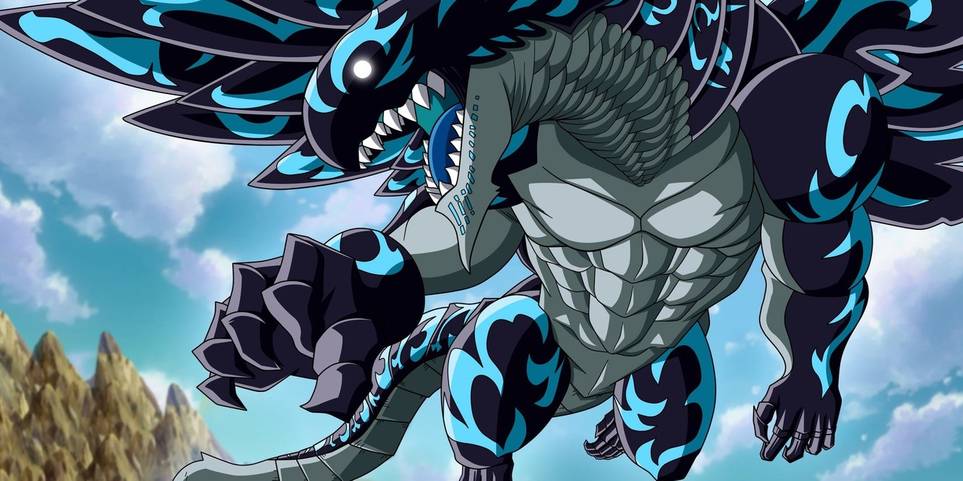 Speaking of terrifying, Acnologia is such an imposing antagonist that he will always be mentioned when it comes to discussing the biggest and baddest anime villains of all time. In fact, I think he's a good representation of Friedrich Nietzsche's, Acnologia is quite powerful, and is nicknamed The Black Dragon of Apocalypse. It usually flies around the world.
There's a chance that the Black Mage Zeref has either a connection to it or knows more about it than he is letting know. We can infer this from the instance when Zeref was able to sense the arrival of Acnologia even before it actually arrived, which was quite some time after. 
---
Advertisement
---
6. Hyōrinmaru – Bleach
Hyōrinmaru is the manifested spirit of Tōshirō Hitsugaya Zanpakutō, who takes the form of a massive serpentine ice dragon. It definitely looks mightier and more menacing than other anime dragons, thanks to its wings, thick legs, and overall muscular frame.
As the strongest ice-type Zanpakutō, Hyōrinmaru can manipulate the moisture in the air to create ice. His attacks include making Chinese dragons of ice to attack his opponents, firing waves of ice, as well as instantly flash-freezing them. When he gets serious, he can even change the weather, causing intense ice storms.
---
Advertisement
---
7. Igneel – Fairy Tail
Igneel is one of the many dragon characters in Fairy Tail, in addition to being one of the strongest. Arguably, Igneel is also the most upstanding and noble of them all – as he was kind enough to be a loving father to Natsu before he left.
Unlike most fathers though, he doted on Natsu while keeping him disciplined and well-taught at the same time. But he's also shown to be proud (big surprise) and arrogant because of his heritage, and tends to get a little irrational and angry at times.
---
Advertisement
---
8. Bahamut – Rage of Bahamut
Bahamut is the most colossal of dragons. His proportions are utterly titanic, his tail is even longer than his body, and his wings can cover an entire city in shadows. He exists only to destroy, that is his one purpose and he cannot be stopped by any human, divine, or demonic weapon.
Dragons are, in general, a symbol of power; in that sense, Bahamut is a perfect representation of dragons. Our list could definitely not be complete without the most terrible and unstoppable of all dragons, the frightening Bahamut. His sole name inspires awe and terror among gods, humans, and demons alike.
---
Advertisement
---
9. Kaido – One Piece
Kaido has gotten ahold of the rarest and strongest Zoan-type Devil Fruit in the entire One Piece universe. And it shows. After eating the Uo Uo no Mi (Fish Fish Fruit), he became so darn strong that he actually has a hard time believing that he could even die.
When Kaido, renowned as the world's Strongest Creature, ate the Devil Fruit, he transformed into a serpentine Azure Dragon. A human-dragon hybrid, he becomes massive, with thick and durable blue scales covering his entire body.
---
Advertisement
---
10. Shenron – Dragon Ball
Shenron is a truly neutral being, granting any wish within his power without caring if it's "good" or "bad." Although he remains his stoic personality during most of his appearances, he does show some degree of desperation, particularly at frivolous wishes. For example, he memorably berates Yamcha for wanting to wish for a necklace.
Arguably the most recognizable dragon in anime, Shenron is the mythical and almighty being summoned by the Dragon Balls. Shenron is a magnificent, serpentine floating green dragon capable of granting three wishes to those who gather all seven Dragon Balls.
Read Also >>
Top 10 Best Thriller Manga Of All Time You Should Know
Top 10 Cutest Anime Boys Of All Time
Top 7 Best Slice Of Life Manga On Amazon
10 Best Anime Where The Girl Reject Boy And Regret Later
Top 10 Anime Where The Main Character Is Dead