If you enjoy watching anime characters, then you've come to the right place. Anime boys are so cute, and we've all liked one at some point in our lives. If you live anywhere in the world, you've probably seen an anime show or movie.
In this blog post, we will discuss the most popular cutest anime boys. So without wasting time check out the list below. Here is a list of the most popular Cuteest Anime Boys from our favorite anime series.
---
Advertisement
---
Top 15 Cutest Anime Boys Ever
1. Lag Seeing – Tegami Bachi
The main character of the series is Lag Seeing, a Tegami Bachi. Anime fans say he is the cutest and deserves to be at the top of the list. All of the individuals we have mentioned are, however, on the same level. One of his eyes has a purple iris. On the other hand, the left eye has a red amber spirit and a spiritual insect.
---
Advertisement
---
2. Alibaba Saluja – Magi: The Labyrinth of Magic
Alibaba Saluja is one of the main protagonists in the series and is the former third Prince of the Balbadd Kingdom. He met Aladdin, a Magi while working as a cart driver for a caravan. Along with Aladdin, he captures the Dungeon, owning the Djinn named Amon, and was chosen by Aladdin to be King Candidate.
---
Advertisement
---
3. Allen Walker – D.Gray-man
Allen Walker is the main protagonist of the D.Gray-man series and is a former Exorcist and a former member of the European Branch of the Black Order. He uses a weapon called Innocence etched into his left arm to fight demons known as Akuma.
---
Advertisement
---
4. Karma Akabane – Assassination Classroom
In the manga and anime series Assassination Classroom, Karma Akabane plays an important role. A student of Korosensei's Kunugigaoka Junior High School, he is from Kunugigaoka. Koro-sensei's injury was the first to be dealt with by him. Karma has fair skin, short red hair, and piercing eyes that are either gold or mercury.
---
Advertisement
---
5. Nai Muhinyi – Karneval
Nai is another charming character in our collection. Nai is one of the main characters in Karneval. He is the first character of the narrative, interacting with Gareki during one of his robberies, causing both of them to embark on their journey together. Nai is a slender boy with a round face and pale features.
---
Advertisement
---
6. Hinata Shoyo – Haikyuu!!
Hinata has a bright, enthusiastic personality. He is easily excited and is extremely outspoken, only second to Nishinoya and Tanaka in this regard. Hinata is, for the most part, a simpleton who makes impulsive decisions from time to time. The movie nevertheless shows him to be an astute observer. This adorable anime boy belongs on the list of the 'Cutest Anime Boys.
---
Advertisement
---
7. Mitsukuni Haninozuka – Ouran High School Host Club
Honey is one of our favorites, so how could we forget about her? Mitsukuni Haninozuka is an older child who appeals to girls because of his childlike appearance and cuteness. Honey, although being smaller than typical for his age and a martial arts champion, is a sucker for adorable things and regularly consumes sweets such as cake and candies.
---
Advertisement
---
8. Nagisa Hazuki – Free
Nagisa is a young man with wavy honey-blond hair and magenta eyes. A dark-gray unbuttoned jacket, tan sweater, and dark brown pants make up his fall and winter school uniform.
---
Advertisement
---
9. Yoichi Saotome – Seraph of the End
Yoichi has brown hair that is medium in length and dark green eyes. In the manga, his hair is spiky, less bouncy, and thinner than it is in the anime. Yoichi's attitude is characterized by a blend of friendliness and selflessness, resulting in an upbeat and charming personality. He has a mental advantage over his demon, who pretends to be his sister.
---
Advertisement
---
10. Mikaela Hyakuya – Seraph of the End
Mika features in short jean shorts and a white hoodie over a collared shirt as an 8-year-old human child before the Apocalypse. He's also seen wearing an oversized jean jacket on occasion. He has short, wavy blond hair and blue eyes, giving him a unique appearance, and is described as stunningly attractive. Isn't he just the cutest little thing?
---
Advertisement
---
11. Aladdin – Magi
Aladdin has medium-length blue hair and bangs that end just above his eyes. He has a long, thin braid running down his back and huge blue eyes. Momo mentioned that his eyes were like those of his mother, but he is said to be a perfect replica of his father.
---
Advertisement
---
12. Kou Tanaka – Ao Haru Ride
Kou is a handsome young man with black hair and brown eyes that are fairly keen. He appeared more nave in middle school, but as time passed, he became more mature and serious. Futaba, in particular, finds it difficult to read his expressions since he keeps a more straight face. He doesn't laugh often, but when he does, it's vibrant and friendly.
---
Advertisement
---
13. Yukine – Narogami
Yukine has the appearance of a teenager with a fresh face. His golden-orange eyes and long blond hair reach to the bottoms of his ears. Yukine is shorter than Yato and Hiyori at only 155 cm.
---
Advertisement
---
14. Gon Freecss – Hunter x Hunter
The main character of the series with spiky black hair. Gon is an athletic, rustic, and friendly boy who is searching for adventure. Also, he is not very good at math. It was also clear that fans thought him cute, and make themselves happy being around a character like this.
---
Advertisement
---
15. Sora Kashiwagi – How to Keep a Mummy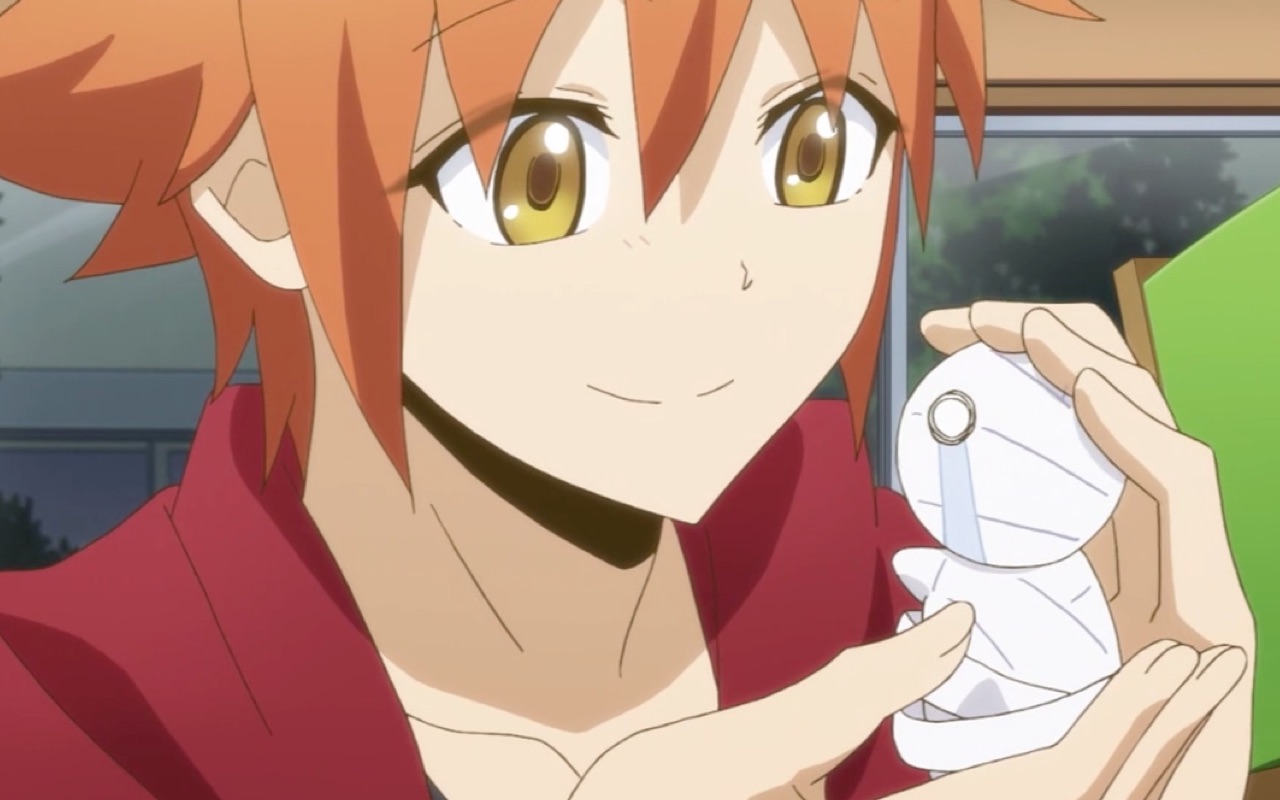 He has orange hair, golden eyes with an ahoge and he has an average body type. His ahoge twitches and moves when he is experiencing strong emotions. He is often seen wearing his school uniform with the top buttons unbuttoned and a red shirt underneath, in a red hoodie, or wearing an apron.
Read also >>
Top 10 Handsome Cute Anime Boys To Fall In Love
Top 10 Cutest And Bravest anime girl with red hair
21 Most beautiful white hair anime girls
10 Most Beautiful Anime Girl With Purple Hair
Top 10 Handsome Anime Characters