If you're a fan of anime like Rent a Girlfriend, then you'll love these seven similar titles! Each one is an excellent way to spend an afternoon or evening and they all have great stories, funny moments, and memorable characters.
Each one is full of quirky characters, fun storylines, and plenty of heart. So if you're in the mood for some lighthearted entertainment, check out seven of the best anime like Rent a Girlfriend that you can watch to get in the mood.
---
Advertisement
---
1. Love and Lies
When children turn 16-year-old, the government assigns them to arrange marriages with potential partners. Those who do not follow the rules must face severe penalties. Fifteen years old Yukari Nejima confesses his love to his long-time crush Misaki Takasaki and finds out she also likes him.
But as he turns sixteen, he is assigned to another girl, Ririna Sanada as his marriage partner. However, Ririna claims to have no special feelings for Yukari and decides to help Yukari get together with Misaki.
---
Advertisement
---
2. My First Girlfriend is a Gal
A new school term begins, as does the season of new encounters. As he surveys his class full of couples, Hashiba Jun'ichi's mind is filled with distress as he asks himself, "Why am I still a virgin?!"
Having heard from his friends that the easiest way to fulfill his long-standing desire to graduate from the fellowship of virgins is to kowtow to a gal, Jun'ichi does exactly that and asks his classmate Yukana out. And unbelievably, she actually agrees to date him.
---
Advertisement
---
3. The Quintessential Quintuplets
One day, a poor high school second-year named Futaro Uesugi comes across a private tutoring gig with good pay. But his pupils are his classmates!! And they're quintuplets!! And they're all gorgeous girls.
But they're also troublemakers who hate to study and are on the verge of flunking out! And his first task is simply gaining the sisters' trust?! Every day is a party! The curtain is rising on the Nakano quintuplets' quirky romantic comedy with five times the cute!! 
---
Advertisement
---
4. To Love Ru
Rito Yuuki is a shy high school teenager who has had a crush on his classmate Haruna Sairenji for a long time. However, he can't put up the courage to confess his love. One night an accident happens that changes everything in his life. While Rito was taking a bath, a beautiful alien princess named Lala Satalin Deviluke crash-lands into his bathtub.
Lala is the crown princess of a Deviluke empire and has run away from her home planet to avoid marriage to any of her husband candidates. Lala then decides to pretend as Rito's lover to prevent any more marriage proposals. Things get even more out of control for Rito when Lala uses her alien inventions to help him.
---
Advertisement
---
5. Rascal Does Not Dream of Bunny Girl Senpai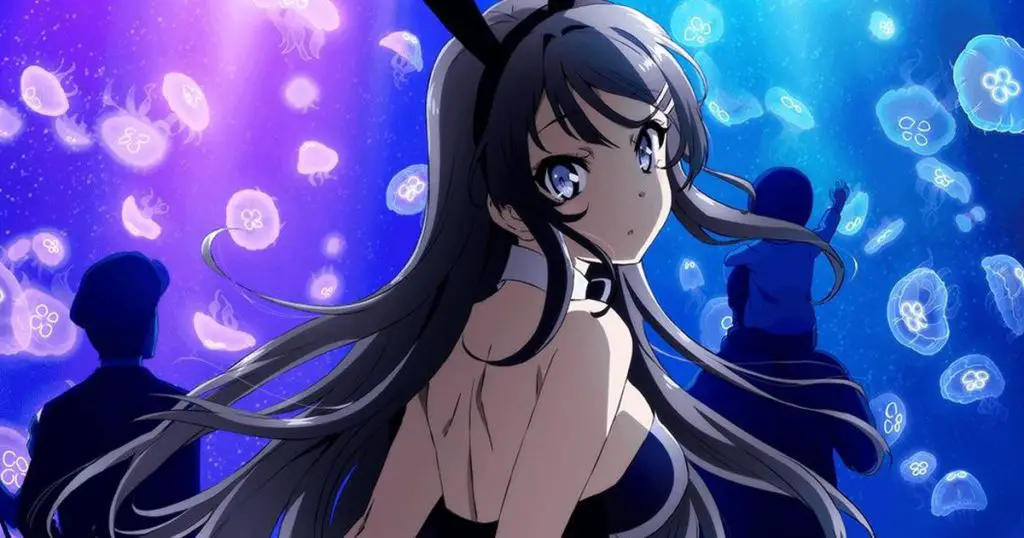 "Puberty syndrome – Abnormal experiences rumored on the internet to be caused by sensitivity and instability during adolescence. This year, Sakuta Azusagawa, a second-year student at a high school near Enoshima, meets several girls that are experiencing this "puberty syndrome."
For instance, he meets a wild bunny girl in the library. She turns out to be an actress on hiatus, Mai Sakurajima, who is also his senior at the school. For some reason, no one else can see this enchanting girl. How did she become invisible…
---
Advertisement
---
6. Wolf Girl and Black Prince
Everyone knows that lies can come back to bite you, but when Erika makes up a fake boyfriend to impress her new classmates, the results may literally end up hounding her forever! Yes, it was dumb, but what were the odds that the random guy whose picture she used would turn out to be a student at her own school? Or that said faux-boyfriend's silence would come with such a horrible price?
Now Erika doesn't just have to run and fetch at Kyoya Sata's command, she has to bark too! Because he's literally treating her like a dog, and she just has to roll over and take it, or he'll tell everyone the truth! But that's not the worst part, because even though this wolf in hunk's clothing has Erika collared, she may be starting to have REAL feelings for him anyway! Is she barking up the wrong tree, or could true love be unleashed in Wolf Girl & Black Prince?
---
Advertisement
---
7. Oreshura
Fans of Rent-A-Girlfriend's narrative should feel right at home with Oreshura. The series follows protagonist Eita Kido after he agrees to enter a fake relationship with his classmate. When word gets out, some of the girls close to Eita decide to make their move.
The set-up is somewhat similar to Rent-A-Girlfriend, but the characters and motivations are completely different. Anime fans will appreciate the bevy of JoJo references made throughout the show.
Read Also >>
Top 7 Mystery Anime Like Bungou Stray Dogs
Top 20 Anime Girls with Pink Hair To Fall In Love
Top 7 Anime like Re:Zero Starting Life in Another World
Top 6 Anime Like My Teen Romantic Comedy SNAFU
Popular 12 Fighting Anime If You Love Fighting